Join Laura from Garden Answer as she takes you into the kitchen to show how she prepares raspberry jam from her seasonal harvest. Learn about her planting process as she shares how she planted her raspberry plants using Espoma Organic Bio-tone Starter Plus and feeds them with Espoma Organic Berry-tone and Holly-tone. Raspberries prefer a more acidic soil so in order to lower her soil pH, Laura amends the soil with Espoma Organic Soil Acidifier.
Venture out to the garden where Laura plants new shrubs, using Espoma Organic Bio-tone Starter Plus to ensure her new plants get the essential nutrients for successful establishment in their new location.
Catch up with Aaron, Laura's husband, as he guides you through fertilizing their grass areas. Check out the equipment he uses, and gain insights from his helpful tips and tricks. To keep their grass happy and healthy, Aaron uses Espoma Organic Lawn Foods.
Learn more about Garden Answer here:
https://www.youtube.com/c/gardenanswer 
https://www.facebook.com/gardenanswer
https://www.instagram.com/gardenanswer/
Featured Products: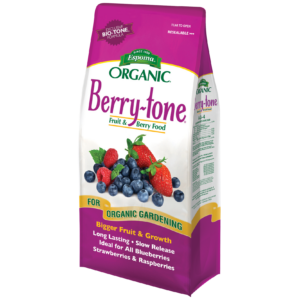 https://www.espoma.com/wp-content/uploads/2023/09/Laura-rasberries-plants-tones-2.jpg
1080
1920
Matt Dauphinais
https://www.espoma.com/wp-content/uploads/2023/05/espoma-logo340w-1.png
Matt Dauphinais
2023-09-28 14:03:24
2023-09-28 14:28:37
Harvesting Raspberries, Planting Shrubs and Feeding the Lawn ♥️ 🌿🌾☀️// Garden Answer