Garden-tone is the ultimate choice for feeding all your favorite herbs and vegetables!  It's a rich blend of the finest natural & organic ingredients and enhanced with humates & beneficial microbes.  No sludges or fillers are ever used. And because it's made in our state-of-the-art solar powered manufacturing facility, consistency and quality are guaranteed.
#1 Choice for Growing Vegetables for Over 60 Years
Abundant Harvests of Flavorful Herbs & Vegetables
100% Natural & Organic Approved
Long lasting Slow-Release Feeding
Safe for People, Pets & Planet
For use on:
On all herbs and vegetables such as:
Hardy (cool season) crops:
Broccoli
Brussels sprouts
Cabbage
Collards
English peas
Kale
Kohlrabi
Leeks
Mustard greens
Parsley
Radish
Spinach
Turnip
Semi-hardy crops for early spring or fall:
Beets
Carrot
Cauliflower
Celery
Chinese cabbage
Endive
Irish potatoes
Lettuce
Radicchio
Rutabaga
Salsify
Swiss chard
Summer crops (Plant after danger of frost):
Beans
Corn
Cucumber
Eggplant
Melons
Okra
Peppers
Pumpkins
Summer squash
Sweet potatoes
Tomatoes
When to use:
Mix into the garden soil prior to planting.
Seedlings / Transplants: 7 – 10 days after planting.
Established plants: Monthly, May through Aug.
Herbs will only require feeding at time of planting or after a large harvest.
How much to use:
Soil Preparation for Vegetable Garden

Apply 3 lbs. per 50 square feet and work into the top 4 to 5 inches of soil. When possible, mix with organic matter such as compost, humus, or peat moss.

Feeding Vegetables and Tomatoes

Single plants: Apply up to 1/3 cup per plant.
Rows: Apply 1-1/3 cup each side per 5 ft. of row or 10 lbs. each side per 100 ft. of row.

Potted Plants

New Plants: When preparing soil for new plants, thoroughly mix  2 cups of Garden-tone into each cubic foot of Potting Soil.
Established Plants:  Sprinkle 1.5 tsp. of Garden-tone per 4″ of pot diameter onto the soil along the outer edge of the pot.  Water thoroughly.

Herbs 

In the garden – use 1 tbsp. per plant
In containers – Use half the rate for potted plants above.
How to apply:
Individual plants  – Sprinkle around the drip line of the plant.
Row crops – sprinkle evenly on each side of row.
Do not allow plant food to contact the main stem or foliage of the plant.
Available in 4, 8, 18, and 36 lb. sizes.
1 pound equals approx. 3 cups.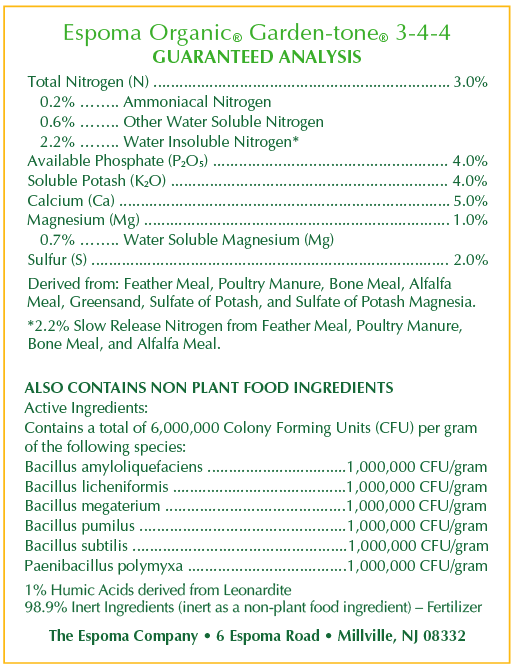 Videos