The holidays are officially underway, and while you're probably already in the process of decorating your tree and other indoor spaces, have you stopped to think about your garden? Decorating the outside of your house can bring even more joy to your community and will give your greenery some extra love during the colder months.

Here are 5 ways to decorate your garden for the ultimate holiday curb appeal.
1. Start with the basics
You don't have to run out and buy new decorations right away! Instead, use what you already have. If you have a few plants in pots, that's a perfect place to start. Add some festive flair to your containers by painting them with holiday images and colors, or just tie some gift bows around them. If filling new containers, use Espoma Potting Mix to give plants a healthy start with our Myco-tone Advantage. Feed your new houseplants with Espoma Organic Indoor! Liquid plant food. 
2. Light it up!
You can't go wrong with string lights during the holidays. While you might be used to lining walkways or hanging them from your roof, try changing things up and wrapping the lights around your shrubs or lining the garden with them. This will bring a festive feeling to your garden while also bringing more attention to your hardy plant babies. (Give them the credit they deserve for making it through this chilly time of year!)
3. Bring the tree outside
Why keep the glory of your Christmas tree limited to indoors? Plant an evergreen outside and decorate it just the same to bring the holiday cheer so even more people can appreciate it. Now you have the opportunity to decorate two of them in completely different ways! Maybe the outdoor version will have a theme and be more photogenic while the kids can have free reign of the one indoors. Plus, you can never go wrong with adding a tree to your property if you have the space!
4. Decorations everywhere!
Similar to the tree, why keep the fun decor inside? Treat the rest of your garden the same and let loose with ribbon, tinsel, and decorations galore. Stick candy canes in the soil for that classic holiday vibe or strew about pinecones for a more rustic look. Try placing old ornaments on any plants with strong enough stems to replicate a mini Christmas tree. Get creative with this one and make it your own!
5. Include your mailbox
Whether or not your mailbox is near your garden, extend your greenery to it to tie it together with your home's festive look. This can be done simply by draping or wrapping a garland around it, but you can also fancy it up with some of the same bits of decor used in the garden like lights or bows. If there's enough space, bring a potted plant or two over to show the neighborhood that this is a plant-loving home!
Go ahead and pick and choose which decor tips you want to incorporate, or go wild and use them all! Remember that curb appeal shouldn't be reserved just for the warmer months. Even if you're spending your holidays social-distance style, adding outdoor decor will extend your festive spirit to all who pass by!
*****
Featured Products: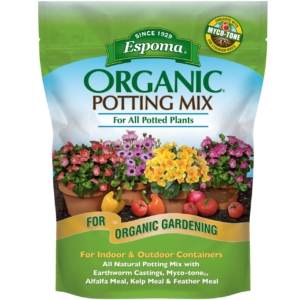 https://www.espoma.com/wp-content/uploads/2020/12/mick-haupt-KPOTowEvT3E-unsplash-scaled.jpg
1707
2560
Stephanie Muczyk
https://www.espoma.com/wp-content/uploads/2023/05/espoma-logo340w-1.png
Stephanie Muczyk
2020-12-22 14:43:28
2023-11-22 13:56:50
5 Ways to Make Your Garden More Festive