Rubber Plant Care and FAQs
Rubber plants (Ficus elastica) don't get enough credit in the tropical plant world. These humble plants are usually available at the garden center and always affordable, but they tend to get overlooked by some of the "sexier Instagram-worthy plants." They can be hardy, growing into 6 foot trees from a small 4-inch pot, and come in beautiful variegated varieties. Rubber plants are fantastic for many more reasons that we're going to dive into.
This blog is inspired by Episode 148 of Bloom and Grow Radio–where host Maria Failla interviewed Raffaele Di Lallo, founder of Ohio Tropics. 
Let's first look at different types of rubber plants! 
Types of Rubber Plants
The two types of rubber plants are non-variegated and variegated.
Non-Variegated Rubber Plants:
Ficus elastica 'Decora': typical shiny, green leaves [PHOTO]
Ficus elastica 'Robusta': similar, but larger leaves  [PHOTO]
Ficus elastica 'Burgundy': gorgeous, super dark, almost black leaves and stems [PHOTO]
Variegated Rubber Plants: 
Ficus elastica 'Tineke': different shades of green, yellow, and cream [PHOTO]
Ficus elastica 'Ruby': beautiful pink variegation [PHOTO]
Ficus elastica 'Doescheri': leaves are a little bit narrower [PHOTO]
PART 1: How to Take Care of Rubber Plants
No matter the variety of rubber plant you have, the care is almost identical. The only minor difference is that variegated plants need more volume of light than non-variegated plants. 
Rubber plants come from the Moraceae family, which also contains figs and mulberries. But don't be fooled: rubber plants are actually toxic. If you break off a branch or leaf, you'll notice a white substance dripping out that's quite toxic to humans and animals. This white latex-like liquid was originally used to create rubber, hence the name rubber plant. Make sure to wear gloves when handling or pruning the plant. 
An easy-to-follow care plan for rubber plants is 1) make sure it gets plenty of direct light and 2) don't overwater. Let's get into more details below!
How to Water Rubber Plants
Rubber plants need to dry out sufficiently between waterings. Your finger is your best friend when it comes to determining moisture in your potting mix. Use your finger to determine how dry the potting mix has gotten. If you have a small four-inch pot, let the top 1/2 inch dry out before watering it again thoroughly. If you have a much bigger pot (around 15 inches), let at least the top quarter of the soil (2-3") in your pot dry out before watering again. 
Always water your rubber plant thoroughly and always have a drainage hole in your pot. Don't let your soil completely dry out, or you risk stressing out your plant's roots.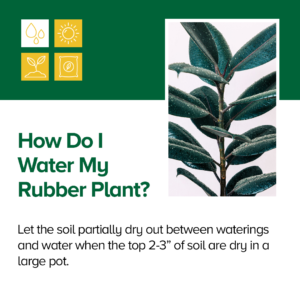 How Much Light Do Rubber Plants Need? 
Oftentimes rubber plants are labeled as low light plants, but they really are low light tolerant. You can't overdo light for your rubber plant indoors! As a general rule of thumb, put your rubber plant right in front of a window, preferably a window with some direct sun. 
An Eastern-facing window that gets morning sun is beautiful, or a Western-facing window that gets afternoon sun is great too. If you live in the Northern hemisphere and you have an unobstructed Southern window, those tend to get a ton of direct sun. Now, if you're in the Southern hemisphere, North and South are reversed and you'll have to adjust appropriately.
When it comes to water, the more light you have, the quicker your soil is going to dry out, because your plant will be growing more. So if you have plenty of sun, then you have to monitor your plant a lot more frequently, because it's going to dry out quicker.
What Type of Soil Do Rubber Plants Need? 
A well-draining, all-purpose potting mix will do wonders for your rubber plant. Check out Espoma's Organic Potting Soil Mix to get you started; it's often the best soil for indoor plants. Adding in perlite or orchid mix will provide that extra aeration to make sure your mix is well draining. To get a good balance between moisture retention and drainage, use three parts all-purpose potting mix and one part perlite. 
How to Fertilize Rubber Plants
You can use any all-purpose houseplant fertilizer for rubber plants. There are two options: liquid fertilizer or a slow-release fertilizer you can add to your potting mix. 
If you don't like liquid fertilizers, you can always use a slow-release plant food  that you add to your potting mix when you plant your rubber plant. Those fertilizers generally last up to 6 months. 
Now that you know all about rubber plant care, let's get into some frequently asked questions! 
PART 2: Rubber Plant Frequently Asked Questions and Answers from Raffaele di Lallo
Why Is My Rubber Plant Not Growing? 
Your rubber plant needs more light! If your rubber plant is in a far corner from your window, it might be time to move it to brighter light. Remember, rubber plants thrive in bright, direct sunlight. 
How Do I Get My Rubber Plant to Branch and Be Bushier Instead of Taller? 
Don't be afraid to prune! Just hack it off wherever you want (just not all the way down to the soil) and chop off a good portion of it. Pruning your rubber plant forces new branches to form, resulting in a bushier rubber plant. 
You can also try air layering, which is propagating from stems still attached to the plant. Take a sharp knife and make a diagonal cut about halfway into your rubber plant trunk. Then add some sphagnum moss in the cut and wrap the entire branch with moss. Put plastic wrap around it and tie it on both ends. Over the course of a few months, it's going to send out roots from where you cut it, which you should be able to see through the plastic wrap. Then you simply cut the stem right under your air layering and replant it. 
What Are the Best Ways to Propagate a Rubber Plant?
The first way to propagate a rubber plant is air layering, described above. This works especially well if you have woody branches already formed. Air layering takes a few months to achieve new root growth. 
The second propagation method is making individual node cuttings. Find the spot where the leaf meets the branch and cut it off on each side, leaving half an inch on either side. You're basically left with a leaf and then part of the stem, where the node is. At that point, you can either stick the stem in water or soil to grow roots. 
Be aware that if you try propagating your rubber plant in winter, you might have a lower success rate and it will be substantially slower compared to trying it in spring or summer when the plant is actively growing
Why Are New Leaves on My Rubber Plants Smaller Than the Older Ones?
Number one, our conditions at home are nothing like ideal conditions in the greenhouses that these plants were grown in. That in and of itself could be a cause. 
Poor, inconsistent conditions could be your second culprit. Poor lighting and letting your plant dry out too much as its developing new leaves can also affect the leaf size.
Why is My Rubber Plant Dropping Leaves? 
Rubber plants don't like to be moved, first and foremost. And if you bring your plant home and shove it in a dark hole, you will get leaves dropping off. Your plant is not going to be able to support all the leaves it had when it was growing in good conditions.
If your plant is horribly root bound, it's going to be very hard to keep up with the watering required to keep the roots hydrated. This could also be contributing to dropping leaves. At that point, you really need to re-pot it in a bigger pot. 
My Rubber Plant Looks Healthy, But the Branches Are All Over the Place. Why Is This Happening?
Indoors, we don't have the benefit of wind that strengthens plants outside. Because of this, our indoor plants may need a little help compensating. It's totally okay to tie up your plant. Rafaelle uses a bamboo stake that he inserted right through the root ball, gently tying the branches that were getting unruly. 
Why Are the Edges of My Variegated Rubber Plant Browning? 
You might not be watering your rubber plant properly. Avoid letting your soil dry out completely or letting your rubber plant soak in water for too long. Once you get the watering right, make sure your rubber plant is supplemented with enough light! 
What Are the Tiny White Spots on My Rubber Plant? 
Those tiny white spots are called lithocysts and pose no harm to your rubber plant. They are cells that contain calcium carbonate. 
Which Rubber Plant Should I Get?
Now that you know how to care for rubber plants and troubleshoot any issues, let's figure out which rubber plant is right for you! 
If you're getting your first rubber plant and have never grown one before, Raffaele recommends sticking with a non-variegated plant, since they're going to be a little bit easier to care for. 'Robusta' is a great beginner rubber plant. And if you really love variegated plants, try the 'Tineke' or the 'Ruby' cultivars. 
Want to learn more about rubber plants and houseplants? Make sure to check out Raffaele's blog and brand new book, Houseplant Warrior coming out soon! 
About Bloom & Grow Radio Podcast
Bloom & Grow Radio Podcast helped people care for plants successfully and cultivate more joy in their lives. Host Maria Failla, a former plant killer turned happy plant lady, interviews experts on various aspects of plant care, and encourages listeners to not only care for plants, but learn to care for themselves along the way.
About Our Interviewee
Engineer and plant parent for more than thirty years, Raffaele Di Lallo knows that the world of houseplants can be full of confusing myths and conflicting care advice. Raffaele started his blog Ohio Tropics focused on gardening with a tropical flare in cold weather climates. It quickly became a blog all about houseplant care. Five years later and he's still writing about all things houseplants! 
His new book Houseplant Warrior: 7 Keys to Unlocking the Mysteries of Houseplant Care demystifies every aspect of plant parenting and is set to release on March 15, 2022. Houseplant Warrior is particularly relevant for the beginner or any houseplant aficionado struggling with their houseplants. Raffaele teaches a holistic approach to houseplant care and understanding how all of the conditions work together.
​​
Follow Raffaele:
Featured Products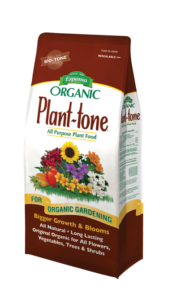 https://www.espoma.com/wp-content/uploads/2022/04/Rubber-Plant-1.png
1080
1080
espoma
https://www.espoma.com/wp-content/uploads/2023/05/espoma-logo340w-1.png
espoma
2022-04-19 14:09:28
2022-04-20 08:29:25
Rubber Plant Care and FAQs