How to Turn Pink Hydrangeas Blue
Picture the bluest hydrangea you've ever seen. It's easy, isn't it? This vibrant flower is as bright and bold as Elvis' blue suede shoes.
So, how can you get a blue hydrangea? The secret is in the soil, and the power is in your hands.
Create a blue hydrangea simply by amending the soil. Most hydrangeas, except white ones, change color based on the pH or acidity levels of their soil.
And, it doesn't stop there.
You can continually tweak the soil pH until you get exactly the shade of blue you've been dreaming of.
Transforming your hydrangeas to a jaw-dropping blue does take a bit of time. For especially big hydrangeas, the color conversion can take months. But, it is definitely worth the wait.
Creating breathtaking blue hydrangeas is extremely easy. All you need to do is amend your soil with Espoma Organic Soil Acidifier.
Other soil acidifiers contain Aluminum Sulfate, which can be incredibly harsh on plants, and even toxic to some, such as Rhododendrons. To keep your garden organic, all-natural and safe for people, pets and the planet, lower soil pH levels using an organic soil acidifier like Espoma Organic Soil Acidifier.
Before changing your pink hydrangeas to blue, check two things.
First, are there any other plants growing near your hydrangeas? Make sure they like acidic soil, too.
Finally, are your hydrangeas growing near a concrete walking path or patio? Concrete often contains lime, which can make it tough to turn hydrangeas blue.
Now let's make magic happen!
To turn new hydrangeas blue, use 1¼ cups of Espoma Organic Soil Acidifier. Or to transform established hydrangeas into blue beauties, apply 2½ cups of Organic Soil Acidifier.
Spread evenly around the hydrangea out to its drip line, or the widest reaching branches.
Then, water well.
Repeat every 60 days until you've got the perfect color for you.
The intensity of blue hydrangeas is dependent on your soil's pH levels. For deep blue blooms, aim for a soil pH of 4.5. For a more muted blue, you want your soil pH to be 5. Finally, if you want violet-blue hydrangea blossoms, your soil pH should be 5.5.
Perform a simple, DIY soil test if you want to discover your soil's exact pH levels.
Craving hydrangeas super-saturated with blue color? Feed hydrangeas regularly with Espoma Holly-tone. Holly-tone fertilizer for acid loving plants also lowers your soil's pH. Plus, a well-fed hydrangea will have bigger, better blooms.
Let's get the word out about this gardening magic trick. Tweet if you're going to magically turn hydrangeas from pink to blue!
Featured in this post: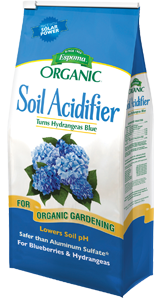 https://www.espoma.com/wp-content/uploads/2015/04/hydrangeas-385767_960_720.jpg
390
960
espoma
https://www.espoma.com/wp-content/uploads/2023/05/espoma-logo340w-1.png
espoma
2015-04-13 07:57:09
2021-01-21 08:54:42
How to Turn Pink Hydrangeas Blue