Boost African Violets by Repotting
African violets need to be repotted about once a year to keep them growing big and beautiful. It is best to inspect them first to see if their leaves and roots are healthy.
If your African violet is happy and healthy, but needs room to grow or is fresh from the garden center and needs to come out of the plastic pot, transferring it, adding fresh soil and Espoma's Violet! liquid fertilizer will keep it healthy and prevent it from getting leggy. Plus it will give you an opportunity to really interact with your new (or old) plants and give them some love.
Steps to Repotting Your African Violets:
Find the right container for your African violet. Keep in mind that the roots grow more out, not down – a shallow wide container will work better than a narrow tall container. Also, you want to find a slightly bigger container than the one it is now – never smaller.
Fill the new pot with enough of Espoma's Organic African Violet Potting Mix so the root ball will sit just under the lip. This will allow your plant to have the correct drainage, pH level and nutrients that it needs. African violets don't like sitting in water, so keeping them in well drained soils will prevent root-rot.
Take your African violet out of the previous pot by gently wrapping your hand around the plant and slowly removing it. Give the pot a squeeze or a small shake if the plant needs help coming out.
Place your African violet centered in the new container. You want the root ball to be below the top of the container.
Fill the container the rest of the way with soil and tuck it in the sides as needed. Be gentle as the leaves will break off if they are handled roughly.
Water to settle the plant. The best way to do that is to soak the bottom of the pot in two inches of water and allow the roots to soak it up. Empty any remaining water after 5 minutes. African violets don't like water to touch their leaves, so if you can't soak it, be sure to water under their leaves and only the soil. Remember, the recommended amount  of our Violet! liquid fertilizer to the water to give it a boost.
Repotting or freshly potting your African violets will increase growth and beauty!
To see this done in action, watch Laura replant her African violets!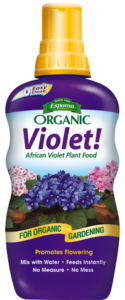 https://www.espoma.com/wp-content/uploads/2017/11/African-Violet.jpg
671
1000
espoma
https://www.espoma.com/wp-content/uploads/2023/05/espoma-logo340w-1.png
espoma
2017-11-08 09:00:12
2019-05-07 10:01:06
Boost African Violets by Repotting