Citrus is one of the most rewarding plants to grow indoors or out. The fragrance of citrus blossoms is unforgettable. Seeing your tree covered in ripe fruit backed by dark green foliage looks like a snapshot from the Mediterranean. And, fresh, tree-ripened fruit is simply the best tasting.
If you live in the "Citrus Belt" that stretches from California, along the Gulf Coast to Florida, (USDA Zones 8-10) you can grow citrus trees outdoors all year long. But even in these warm climates, occasional cold snaps can occur. Gardeners in the Northern states can grow citrus in pots and bring them inside for the winter. No matter where you live, get ready to protect your beautiful plants.

Four Tips for Bringing Potted Citrus Indoors for Winter
Wash Citrus. Using a hose, spray foliage and branches to remove insects and allow to drip dry. Next, spray with an organic, insect killer like Espoma's Insect Soap, covering both the top and undersides of the leaves, to make sure you aren't bringing any pests indoors.
Re-Home. Citrus trees do well in cool temps from about 50 to 70 degrees with as much bright light as possible. Eight hours of sun per day would be ideal. South-facing windows usually have the most favorable light for citrus trees. Repot plant if it's outgrown its current container with Espoma's Cactus potting mix to give citrus plants proper drainage.
Feed Plants. Feed your citrus plant every four weeks with a fertilizer specially formulated for citrus, like Espoma's Citrus! Unlike trees planted in the ground, potted plants quickly use up the food in the soil and it needs to be replenished.
No Wet Feet. Citrus will not thrive in consistently wet soil, so make sure your citrus pots have excellent drainage. Set the pot on a saucer of pebbles to allow excess water can drain off. Water well when the top two inches of soil feels dry, once a week on average.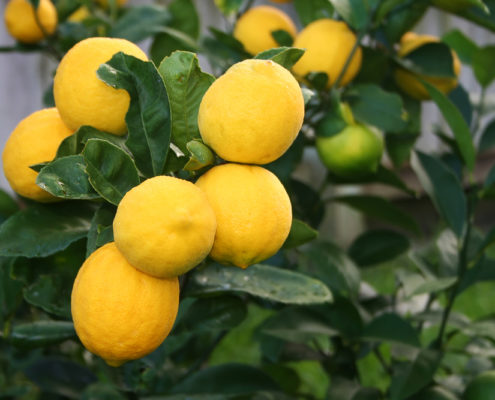 Four Frost Protection Tips for Outdoor Citrus Trees
Citrus are subtropical plants and will not survive freezing temperatures. To protect plants, they will need to be covered one way or another. If temperatures dip down to 30 degrees, it's time to take action. This is especially important for young citrus trees.
Water well. Water-deprived trees freeze faster. Moist soil also absorbs more heat from the sun than dry soil does.
Remove mulch. Expose the soil to the sun for winter months to enable plants to absorb more heat.
Know when to cover up. If freezing temperatures happen often in your area, you can build a simple structure out of wood to surround plants and cover it with plastic, burlap or even old blankets. Fasten the cover with tacks or staples so they can't blow off.
Let citrus breathe. If day time temperatures are warm, remove the covers to allow for ventilation.
Here are some other citrus blogs we think you will enjoy.
Feeding Citrus for the Most Fruit, Growing Food Out of Your Zone from the Citrus Guy, When Life Gives You Lemons – Grow Them Indoors
Espoma Products for Happy Citrus
https://www.espoma.com/wp-content/uploads/2018/01/kumquat-tree-citrus-.jpg
667
1000
espoma
https://www.espoma.com/wp-content/uploads/2023/05/espoma-logo340w-1.png
espoma
2019-10-02 12:15:32
2019-10-07 10:32:07
Frost Tips For Citrus