Grow a Garden Spa for Mother's Day
Flowers for Mom on Mother's Day are always appreciated. But, what if you could give her a gift that will lets her pamper herself all year? You can, with a spa-inspired collection of plants!
Having these naturally soothing elements on hand means mom can treat herself any day of the week. Help mom have her best garden yet by adding Espoma's liquid Grow! to fertilize her herbs regularly.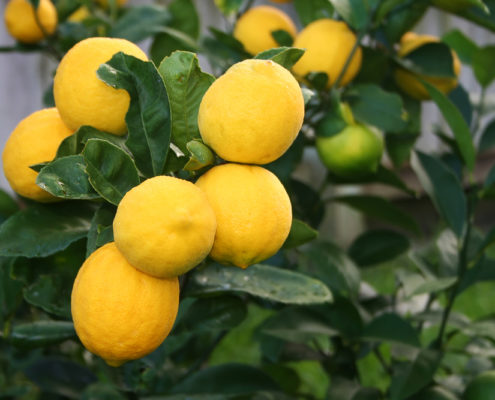 When Life Give You Lemons
Let's start with the all-star – lemon. They are a fabulous source of vitamin C, calcium, magnesium and potassium—all antioxidants that improve the look and feel of hair, nails and skin. The essential oil in lemons are used to fight stress, fatigue and insomnia. It is also said to stimulate the immune system, alleviate pain and promote weight loss. Whether she adds them to water or tea or make them into a lemon sugar scrub for her skin, she's going to feel more refreshed.
If she can grow citrus outside, she's a lucky one. But, even if she can't, she can still grow citrus in pots and bring them inside for the winter. She'll be rewarded with the incredibly fragrant, white blossoms. Lemon trees in big terra cotta pots look very continental and will remind her of a trip she took to Italy or the one she's been dreaming about. Espoma's Organic Citrus-Tone should be added for larger and more flavorful fruits. Read more about growing lemon trees here: When Life Gives You Lemons.
Cool as a Cuke
Here's one for the veggie lovers. When you think of a spa day it may conjures up images of fluffy bathrobes and slices of cucumbers covering eyes. Watery cucumbers hydrates the skin and reduce puffiness. Along with this anti-inflammatory effect, they have high levels of potassium, vitamin E and antioxidants to help prevent wrinkles. Cucumber infused water is extremely refreshing and cucumber infused, summer cocktails are delicious. Cucumber plants should be fed monthly with Garden-tone.
Eat, drink and be Rosemary
If you can't fly her to Greece for a spa trip, she can get the feeling by growing the herbs that originated there like rosemary, mint and lavender. Rosemary will grow almost anywhere and will delight Mom with tiny blue flowers that bees and butterflies love. Rosemary naturally reduces stress and seems to have an astringent properties when used as a facial steam. It may also aid memory and concentration. Bio-tone Starter Plus is great for new plantings to give them their best start.
Mint to Be
Mint is a fast growing perennial that can spread vigorously. We recommend planting in pots to keep it corralled. Use Espoma's Moisture Mix potting soil for best results. Mom can pinch off some fresh peppermint leaves and pour boiling water over them to make a mint tea. It aids digestion and contains antioxidants that can help boost the immune system. The fragrance of the tea itself is refreshing and is often used to calm the mind. Mojito-loving moms can also use it for their after-spa drinks.
Lavender Love
Lavender has long been valued for its anti-anxiety properties and helps with restlessness, nervousness and insomnia. It's often used in sachets under pillows to promote sleep or in baths as an aid to relaxation. It can also be used in baking and to infuse drinks like lemonade and Prosecco. Lavender should be used sparingly, as it has a strong taste in food and drinks.
If Mom doesn't have a garden outdoors, you could create a spa in her bathroom.
Espoma products for Spa Garden
https://www.espoma.com/wp-content/uploads/2018/06/lavender-.jpg
667
1000
espoma
https://www.espoma.com/wp-content/uploads/2018/11/espoma-organic-logo.png
espoma
2019-05-08 08:00:32
2019-05-07 09:56:08
Grow a Garden Spa for Mother's Day