Aroids are from the family Araceae and include many common houseplants like aglaonemas, monsteras, philodendrons, pothos and ZZ plants. While these plants tend to be "low light" indoor plants, they're often understory plants in the wild.  
Aroids come in all different sizes from the extra-large corpse flower to the desk-sized peace lily. You can usually spot them by their colorful, spiky blossoms. Each aroid blossom is made up of numerous tiny flowers clustered together on a "spadix," that's found within a curved, leaf-like "spathe."
Some aroids have special talents, like being able to generate their own heat or being propagated in water. This family has long been swamp-dwellers that were able to adapt to regular floods, one of the reasons they're an easy-care houseplant.
Many of these plants have waxy roots and leaves that prevent the plants from absorbing too much water. If you do choose to root your aroid in water for an extended period of time, remember that the longer they do, the harder it will be for them to adapt to soil conditions.
Many aroids have the same preferences, so they do well grouped together and make for easy beginner plants. These plants prefer medium light but will tolerate low light. Too much direct sun can cause them to get sunburn. They should be watered about once a week, allowing the top 1-2" of potting mix to dry out in between waterings.
The easiest aroids for new plant parents
Peace Lilly
The peace lily is an essential houseplant. Not only does it have stunning green foliage, but if given enough light, classic lily blooms will flower. They have air cleansing and cooling abilities, making them perfect as part of your air-cooling house plant team. Peace lilies prefer medium to low light and well-drained soil. For quality potting soil and houseplant success, try Espoma's Organic Potting Mix. The biggest danger with peace lilies, and most plants, is over watering. The peace lily is a hardy, forgiving plant that will let you know when it needs water. It has a telltale droop to signal it's thirsty. It will pop back up as soon as it gets the water it desires.
ZZ Plant
This is one tough houseplant! It can survive with only florescent lights and no natural light. Don't worry if you forget to water it, it may start to drop some of its leaflets to conserve the water left and will rebloom after a good drink.
Monstera
Known as the split leaf philodendron, the foliage on this plant is striking. Being a tropical variety, this plant can survive lower light and higher humidity. It has large, lush, dark green foliage that stands out against a blank wall, making it one of the most popular plants of the year. Keep it near a window with indirect light and watch it grow.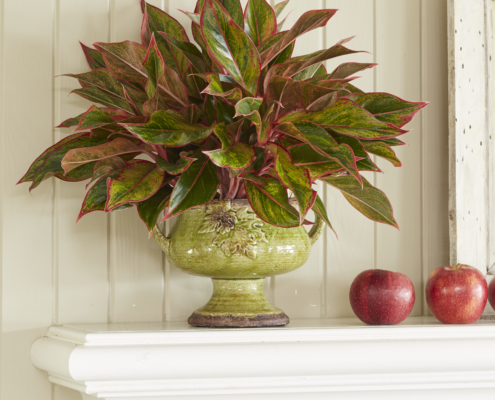 Aglaonema
Also known as the Chinese evergreen, this houseplant can come in colors from deep green to silver to red. It is slow growing, with large, narrow and glossy oval foliage. When deciding where to put your aglaonema, keep in mind the lighter the variegation, the more light it needs. So if you'd prefer dark green foliage, it can thrive in low light. Water when the top two inches of soil are dry and add humidity by surrounding ags with other houseplants in the summertime or set pot on top of a saucer layered with stones and water. Use Espoma's Indoor! liquid plant food during the growing season to give it the nutrients it needs.
Looking for more easy care houseplants? Check out Garden Answer's favorite low light houseplants!
Espoma products for happy aroids
https://www.espoma.com/wp-content/uploads/2019/01/Monstera-Living-Room-Costa-Farms.jpg
5188
3840
espoma
https://www.espoma.com/wp-content/uploads/2023/05/espoma-logo340w-1.png
espoma
2019-10-23 14:33:03
2021-12-14 09:06:34
What's an Aroid?